This sweet little kitten has appeared in my garden.  She's been here for about 2 weeks now.  She's very fun-loving– plays with the leaves on my back porch and tries to make friends with other neighborhood cats.  She's been shy at first, but now comes up to my feet to play when I flip a feather or leaf back and forth.
Update Feb 2012 –I've been feeding her kitten food so she's very healthy.  She's been to the vet, has been spayed and she will let me pet her now.  A very happy playful kitten!
Anyone out there interested in adopting a new friend?
Update March 2012–She's been adopted!!!!!!  'October', the little kitten that lived in our yard for the 3rd through 8th month of her life, is now living with her new family.  A friend of one of my co-workers adopted her — They've renamed her "Callie O" (O for October!)  she's doing well and enjoying the company of Pepper, her 2 year old kitty sister!  I am totally thrilled!!!!  THANK GOD FOR FRIENDS!!!
 Below:  Callie O (formerly known as October) with her new sister Pepper!!!!!!!!!!!!!!!
….Getting comfortable on the sofa!

Callie O, all grown up! 2013 photo.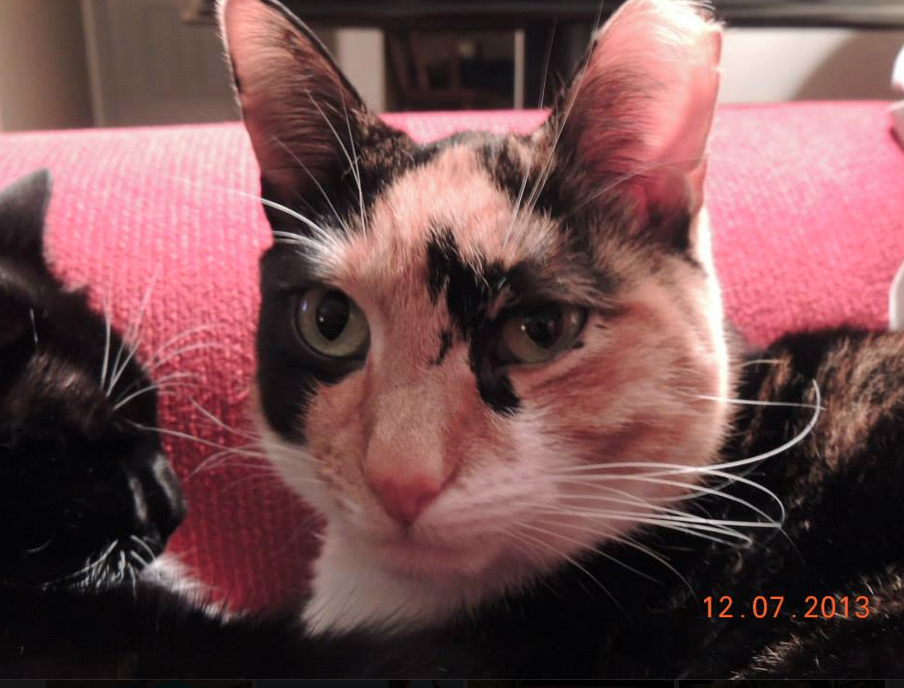 Best Buds! Callie O (October) and Pepper